Wilmington's Highest Quality Painting Company
SERVING NEW HANOVER, BRUNSWICK, & PENDER COUNTIES
EXTERIOR
Exterior painting protects your home and helps keep it looking its best.
INTERIOR
Make your house a home with interior paint colors that reflect your personal style.
PRESSURE WASHING
Remove dirt, grime, and mildew – you will be amazed at how great your house can look!
Quality Matters
At Land To Sea Painting, we are focused on delivering the best quality Residential and Commercial Painting services in the Greater Wilmington, North Carolina area. This commitment means that we only use the highest quality paints and we do not cut corners when taking care of your home investment. We offer free painting estimates and we stand by our craftmanship.
Whether you are looking for an exterior painting project for your residence along the coast in Carolina Beach or Wrightsville Beach, or an interior job for your townhouse or historic home in downtown Wilmington, you can count on Land to Sea Painting for quality service and lasting results.
(910) 431-1899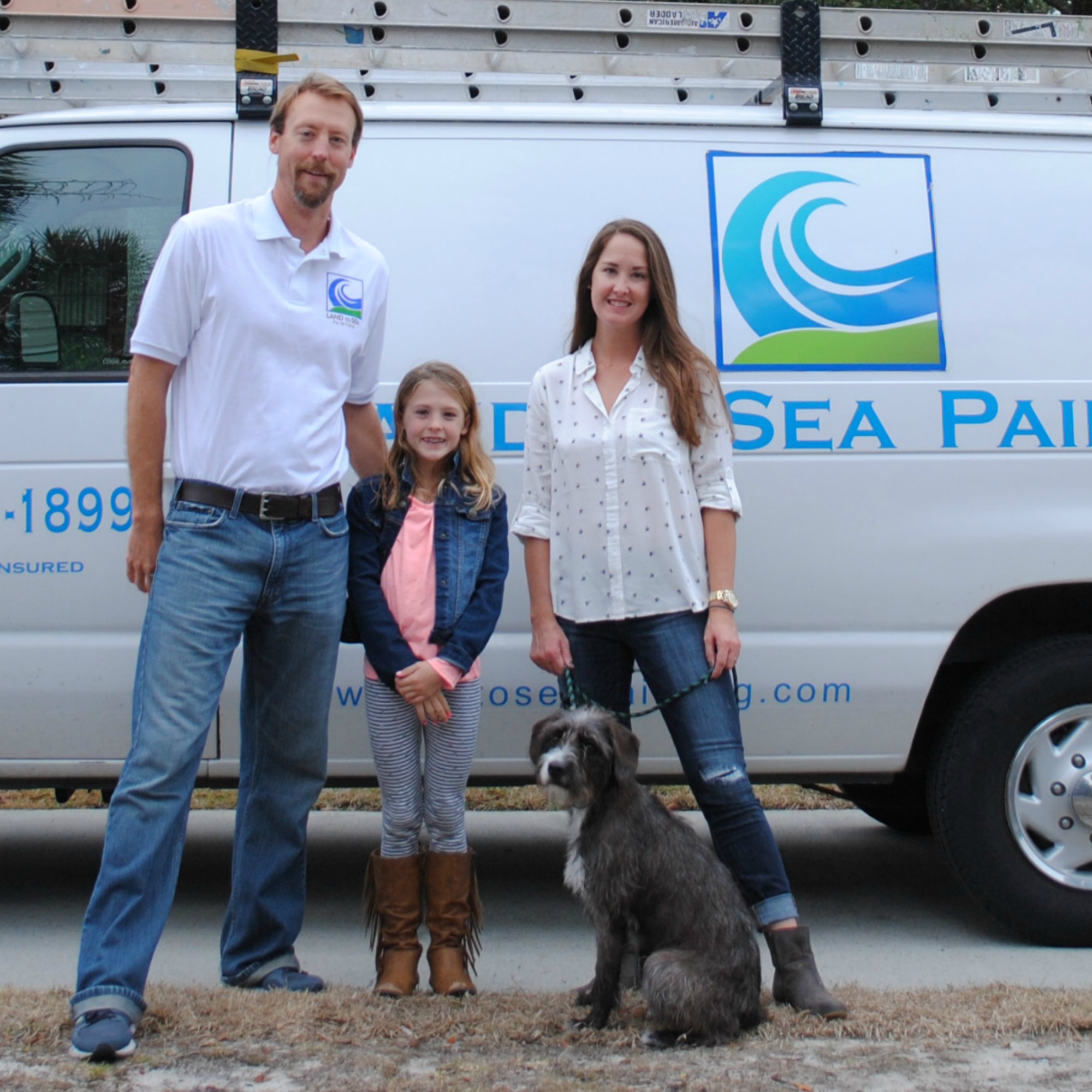 "My wife Anna and I moved to Wilmington in 2003 after graduating from William & Mary in Williamsburg, VA. I spent the next few years as the goalie for the Wilmington Hammerheads and painting in the summertime. In 2004, I started Land to Sea Painting after seeing a need for a high quality painting company in the area. In 2008, we welcomed Taylor into our lives and feel very lucky to be able to raise our daughter here in Wilmington.
When you work with Land to Sea Painting, you will deal directly with me and not a crew of people who you have never spoken to. When I work on your property, I treat it like it is my own. To me, quality and commitment does matter."
Billy Platz
CUSTOMER FEEDBACK
Billy and his team did a great job painting our home in downtown Wilmington. When we first bought our property some of our paint had begun to mildew and we are happy to say that two years after our paint job, the house looks like new. We felt 100% comfortable with Billy being in our house around our kids when Nat wasn't home or when no one was home. Needless to say, we would not trust just anyone with the keys to our home. We have already referred Billy to friends and family.
Billy painted our house a couple years back and did a great job! Very thorough and treated our house as it was his own. Just called him back to power wash the house and he made time in his very busy schedule to get it done before the rental season started. Highly recommend!
I am a Home Designer in Richmond Va and also have a home in Carolina Beach N.C.. Billy Platz was recommended by a friend in Carolina Beach to Paint the interior of our Home. He did a great job, very professional, showed up when he said he would and finished on time. I would highly recommend his services. I wish he also worked in Richmond Va.